Australia's most loved and decorated canine war hero, Explosive Detection Dog Sarbi, has died after a short battle with brain cancer.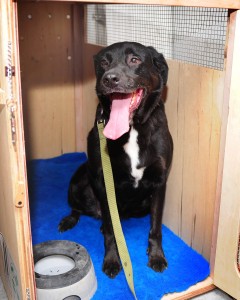 The Australian Army's four-legged Digger passed away on Friday with her loving handler, Warrant Officer David Simpson, and his wife, Kira, by her side.
"Unfortunately, her condition had deteriorated quickly over the last four weeks and her quality of life was no longer acceptable," WO Simpson said on Sarbi's Facebook page.
"Sarbi had a wonderful life serving Australia as an EDD and as a pet at home for the last five years."
Sarbi was awarded the highest military honour for canine warriors, the War Dog Operational Medal, as well as the prestigious Purple Cross by the RSPCA for her services in war-time.
The beautiful Newfoundland-Labrador retriever cross suffered several seizures in recent weeks and underwent a spinal tap MRI and CT Scan, which detected a tumour in her brain.
She was 12.
As I wrote in my book, Saving Private Sarbi, the plucky pooch went missing during a life-and-death ambush between the elite SAS and the enemy Taliban in Khas Uruzgan, about 100km north-east of Tarin Kot in Afghanistan in 2008.
Shrapnel from an enemy bomb sliced through her leash, separating her from Simpson and in the chaos and bloodshed of battle, she got lost. She was the first Australian military working dog to go missing in action. [click to continue…]
{ Comments on this entry are closed }