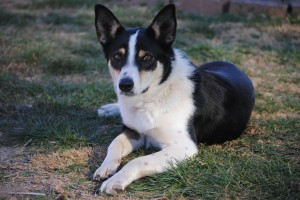 Retired Explosive Detection Dog handler Murray Young is not the type of fella who wants recognition or accolades or pats on the back.
In fact, he hates that type of stuff so let's set the record straight: he did not ask for this article and is embarrassed by it, just a bit. No, make that a lot.
Still, I convinced him to do a story because he's doing something good for his fellow Diggers. Like a lot of our former men and women of the Australian Defence Force, he doesn't know how not to serve.
In brief, he's training the gorgeous dog you see above  to be a companion dog for a returning Aussie soldier who needs a bit of extra help in his or her post-deployment days. The dog, Rosie, was rescued by the RSPCA in country New South Wales. When it comes to training dogs, Murray knows what he's doing.
Some history: Murray joined the Australian Army in 1999 and retired in 2013, and spent a decade as a Doggie, one half of the human-hound partnerships that make up the prestigious Explosive Detection Dog Section (EDDs). I first came across Murray when writing my book Saving Private Sarbi, The True Story of Australia's Canine War Hero, a couple of years ago.
Murray was, at that time, the top Doggie of the section, and he spotted an advertisement in the newspaper offering Sarbi and her brother, Rafi, up for adoption. He suspected the dogs had the makings of being top-flight EDDs. He checked them out, liked what he saw (that is, both Rafi and Sarbi were inveterate ball retrievers, a key sign they'll turn into good working dogs) and within a couple of hours, the Australian Army had its newest recruits bedded down in the kennels at the Holsworthy Barracks. [click to continue…]
{ Comments on this entry are closed }