THE Australian Army has lost another fine four-legged veteran with the death of retired Explosive Detection Dog Vegas.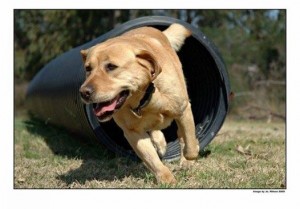 The Labrador retriever passed away peacefully earlier this month at her home in New South Wales where she lived with fellow EDD Sarbi, Australia's most famous hero hound and their former Army handler.
Vegas (pictured in full flight in training at right) was 16, or 112 in dog years.
The gorgeous golden Lab retired from active service in 2005 to live with her handler from the unit then known as the Incident Response Regiment, Sergeant D (whose name can not be revealed for operational security reasons).
"Vegas was as happy as any other day, right up until the end," Sgt D told me via email.
Vegas joined the Army when she was two years old at the start of 2000 and her first operational role was providing security for the Sydney Olympic Games.
Two years later, Vegas met Queen Elizabeth as part of the security detail for the Royal Golden Jubilee tour of Australia.
Her encounter with the Queen is told in in my book Saving Private Sarbi, The True Story of Australia's Canine War Hero.
Here's part of her story from Saving Private Sarbi:
D and Vegas were part of the security detachment for the Golden Jubilee Royal Tour of Cairns in 2002 and had lined the red carpet at the airport waiting for the Queen and her husband, Prince Philip, to stroll past, as custom dictates. As the animal-loving royal made her way up the receiving line she spied the soldier with Vegas sitting neatly beside his left leg, a fine example of an obedient and well-trained dog. Her Royal Highness is a die-hard dog person. She fell in love with the quirky corgi breed as a child in 1933.  [click to continue…]
{ Comments on this entry are closed }