Australia's most loved and decorated canine war hero, Explosive Detection Dog Sarbi, has died after a short battle with brain cancer.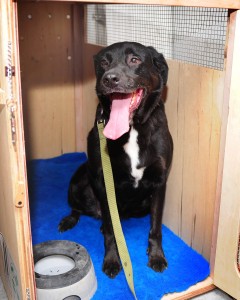 The Australian Army's four-legged Digger passed away on Friday with her loving handler, Warrant Officer David Simpson, and his wife, Kira, by her side.
"Unfortunately, her condition had deteriorated quickly over the last four weeks and her quality of life was no longer acceptable," WO Simpson said on Sarbi's Facebook page.
"Sarbi had a wonderful life serving Australia as an EDD and as a pet at home for the last five years."
Sarbi was awarded the highest military honour for canine warriors, the War Dog Operational Medal, as well as the prestigious Purple Cross by the RSPCA for her services in war-time.
The beautiful Newfoundland-Labrador retriever cross suffered several seizures in recent weeks and underwent a spinal tap MRI and CT Scan, which detected a tumour in her brain.
She was 12.
As I wrote in my book, Saving Private Sarbi, the plucky pooch went missing during a life-and-death ambush between the elite SAS and the enemy Taliban in Khas Uruzgan, about 100km north-east of Tarin Kot in Afghanistan in 2008.
Shrapnel from an enemy bomb sliced through her leash, separating her from Simpson and in the chaos and bloodshed of battle, she got lost. She was the first Australian military working dog to go missing in action.
Nine of the 12 Australian soldiers were injured in the firefight, including Sarbi's handler. An American Army dog handler in the joint US-Australian-Afghan patrol was killed while trying to protect a wounded colleague from enemy fire.
It was the largest number of Australian casualties in one incident since the Vietnam War.
One of the three Diggers to emerge unscathed from the battle was SAS Trooper Mark Donaldson, who was awarded the Victoria Cross for his gallantry under fire that day.
Sarbi disappeared during the firefight and was taken prisoner of war by the Taliban who later moved her from compound to compound.
She was discovered 13 months later by a US Special Forces soldier and returned to the Australian Army in Afghanistan, before being repatriated to Sydney a year later.
Sarbi shot to international fame in 2009 when her recovery was announced at Tarin Kot during a visit by then Prime Minister Kevin Rudd. With him was the then commander of the US forces in Afghanistan, General Stanley McChrystal and the four-pawed soldier effortlessly upstaged the four-star general and Prime Minister.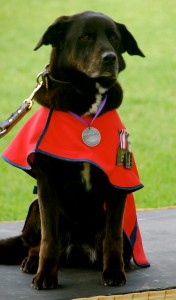 Sarbi, a Newfoundland-Labrador Retriever cross, joined the Australian Army in 2005 with her litter-mate, Rafi. She served three tours of duty in Afghanistan with her handler and retired from active service in 2010.
"She was always so happy and would greet us at the gate with an excited howl every day before running off to find a ball," Simpson says.
"Sarbi will live on in everyone's hearts and minds and I hope that her story of perseverance and determination will inspire you to do whatever you can to achieve your goals and dreams."
Earlier this month, Sarbi was the canine of honour at the opening of Sarbi Park in Queensland. The park, at Warner north of Brisbane, is part of the new development for Defence Housing and was named in her honour. She was also immortalised with a statue, with her front paw raised, her signature pose when seeking explosive weapons and improvised explosive devices.