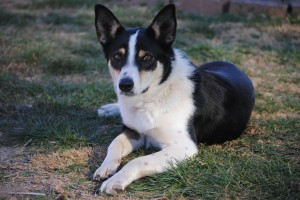 Retired Explosive Detection Dog handler Murray Young is not the type of fella who wants recognition or accolades or pats on the back.
In fact, he hates that type of stuff so let's set the record straight: he did not ask for this article and is embarrassed by it, just a bit. No, make that a lot.
Still, I convinced him to do a story because he's doing something good for his fellow Diggers. Like a lot of our former men and women of the Australian Defence Force, he doesn't know how not to serve.
In brief, he's training the gorgeous dog you see above  to be a companion dog for a returning Aussie soldier who needs a bit of extra help in his or her post-deployment days. The dog, Rosie, was rescued by the RSPCA in country New South Wales. When it comes to training dogs, Murray knows what he's doing.
Some history: Murray joined the Australian Army in 1999 and retired in 2013, and spent a decade as a Doggie, one half of the human-hound partnerships that make up the prestigious Explosive Detection Dog Section (EDDs). I first came across Murray when writing my book Saving Private Sarbi, The True Story of Australia's Canine War Hero, a couple of years ago.
Murray was, at that time, the top Doggie of the section, and he spotted an advertisement in the newspaper offering Sarbi and her brother, Rafi, up for adoption. He suspected the dogs had the makings of being top-flight EDDs. He checked them out, liked what he saw (that is, both Rafi and Sarbi were inveterate ball retrievers, a key sign they'll turn into good working dogs) and within a couple of hours, the Australian Army had its newest recruits bedded down in the kennels at the Holsworthy Barracks.
Back at Sarbi's and Rafi's old home, there were plenty of tears but their family was moving house and was unable to take their fur kids with them. The army was a great option as all of the Army's EDD Section hounds are rescued from pounds or donated by families that, for various reasons, can no longer look after them.
Murray and his fellow dog handler Sgt D (who must remain nameless because he has protected identity status within the special forces) trained Rafi and Sarbi to be star Explosive Detection Dogs, and both sets of Doggies did multiple deployments to Afghanistan. Tragically, Rafi was killed by snakebite in far north Queensland, and Sarbi is now in retirement and living with Sgt D and his wife in Sydney after she was recovered from the Taliban, who held her as a prisoner for 13 months in Afghanistan.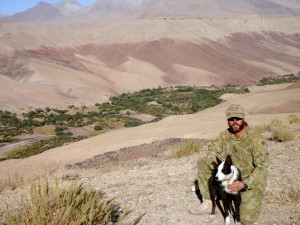 Back to the present. Murray got in touch with me a few months ago to let me know he was about to train a new rescue dog. A copy of Saving Private Sarbi with Sarbi's paw-print was auctioned at the Glen Innes RSPCA and raised $650 to help source and train the dog. The Glen Innes Returned Services League (RSL) is also helping out.
And now Murray has his new dog. This little beauty with the two tawny dots above her pretty eyes (pictured above) is named Rosie and she'll live with Murray and his family for between six and twelve months while he trains her.
"The outcome should be that Rosie will be a well-trained companion dog who can provide companionship to her handler in most environments she may encounter," says Murray who is pictured at right with EDD Bailey in Afghanistan.
The reality is that with Murray's careful training, Rosie will turn into a Digger's best mate and right-hand-paw (by 4) and help him or her through the adjustments back in Australia after a tough deployment to one of the many overseas missions our governments have recently sent them on.
It's a big task but as other groups have discovered, canine therapy is hugely successful and there is no love as unconditional as that of a dog.
Not for nothing do the Doggies have their unofficial motto as, 'In Dogs We Trust'. Good work, Murray, and thank you for your service and your on-going selflessness.