THE Australian Army has lost another fine four-legged veteran with the death of retired Explosive Detection Dog Vegas.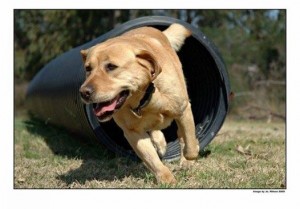 The Labrador retriever passed away peacefully earlier this month at her home in New South Wales where she lived with fellow EDD Sarbi, Australia's most famous hero hound and their former Army handler.
Vegas (pictured in full flight in training at right) was 16, or 112 in dog years.
The gorgeous golden Lab retired from active service in 2005 to live with her handler from the unit then known as the Incident Response Regiment, Sergeant D (whose name can not be revealed for operational security reasons).
"Vegas was as happy as any other day, right up until the end," Sgt D told me via email.
Vegas joined the Army when she was two years old at the start of 2000 and her first operational role was providing security for the Sydney Olympic Games.
Two years later, Vegas met Queen Elizabeth as part of the security detail for the Royal Golden Jubilee tour of Australia.
Her encounter with the Queen is told in in my book Saving Private Sarbi, The True Story of Australia's Canine War Hero.
Here's part of her story from Saving Private Sarbi:
D and Vegas were part of the security detachment for the Golden Jubilee Royal Tour of Cairns in 2002 and had lined the red carpet at the airport waiting for the Queen and her husband, Prince Philip, to stroll past, as custom dictates. As the animal-loving royal made her way up the receiving line she spied the soldier with Vegas sitting neatly beside his left leg, a fine example of an obedient and well-trained dog. Her Royal Highness is a die-hard dog person. She fell in love with the quirky corgi breed as a child in 1933.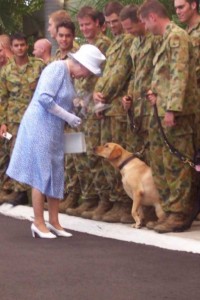 Queen Elizabeth stopped in front of Vegas. Her handler was surprised, not exactly expecting a one-on-one royal audience but like every soldier, he came prepared.
"Good afternoon, Your Highness," he said with a smile, posture ramrod straight, shoulders back. As the small talk progressed above her, Vegas surreptitiously went to work on the new smorgasbord of scents that had materialised in front of her. With as much dexterity as she could muster from her seated position, the cheeky Lab craned her neck as far as she could, her inquisitive nose testing the air, twitching with each inhalation. Seconds later, an emboldened, black, wet schnozzle sniffed the royal handbag, as if searching for treats. Had Her Royal Highness not been so fond of dogs Vegas's wayward sniff could have been a diplomatic disaster reminiscent of Paul Keating's infamous "lizard of Oz" moment in 1992 when he undiplomatically snaked an arm around the royal's back. 
 "The Queen just laughed," D says now. 
Vegas retired after a six-month deployment with Sgt D on Operation Anode in the Solomon Islands where the then Prime Minister John Howard accidentally trod on her paw during a meet-and-greet photograph opportunity with the human and hound soldiers.
"She didn't even wimper, just looked up at him as if to say, 'would you kindly get off my foot'," said a fellow Digger who served in the Doggies, as the EDD Section is known.
Upon Vegas's retirement, Sgt D was assigned Sarbi, the ball-obsessed Labrador-Newfoundland cross who he trained from scratch, and together they served two tours of Afghanistan.
Sarbi's deployment was rudely cut short during an ambush with the Taliban when she was taken prisoner of war and went missing for 13 long months.
It was the same ambush from which SAS Trooper (now Corporal) Mark Donaldson was awarded the Victoria Cross for courage under fire.
Sarbi was finally found by the American Special Forces group in 2009 and returned to the Australians at Tarin Kot, before making her way home to Australia in 2011 and eventual retirement alongside Vegas with Sgt D and his wife.
Both hero hounds naturally played second fiddle to Henry the cat. But with the top dog's passing, Sarbi has moved up the food chain even though she's missing her big sister.
"Sarbi is fine," says Sgt D. "She has her own bed in the lounge now."
May Vegas's dear soul rest in peace, and as the Doggies say, 'In Dogs We Trust'.
Seek on, Vegas. Attagirl.
(Sincere thanks to Sgt D for allowing me to publish his photographs of EDD Vegas).